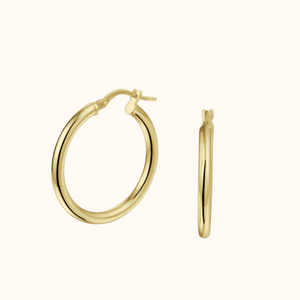 "Classic is timeless!"
These classic golden hoops are the must haves for in your closet! 
Tip: You can wear these classic hoops every day and they are perfect to combine with your other jewelry.

Size & Information
These hoops are 14K. yellow gold with silver core for strength
We sell them as PAIR
Hoop size is 25mm 
Handmade jewelry will take a bit longer. We hope to send you this beautiful piece of jewelry within 7 working days.